After sailing thousands of nautical miles, Margot Page has established her studio in Duncan, British Columbia. Her process, enamelling on sheet steel, depicts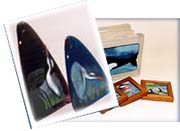 marine topics including mammals, birds, and the exotica of faraway places, which she has mounted on a variety of glass media.

Concern for shrinking exotica is reflected in her subject matter: Japanese Geisha, endangered species, and common wildlife.

Use of this medium creates a work of art, which is not affected by ultra violet light or the ravages of time. Indeed, enamels have existed for centuries. They are durable, beautiful, non toxic and finite.

Margot Page lives and works on Vancouver Island, off the west coast of British Columbia.

Copyright © 2002 - 2014 Margot Page, Duncan, British Columbia CANADA
Photographs on About, Contact, Gallery pages by Heather Wade